Cradles that are "demountable" can be taken apart quickly and reassembled at a new, more convenient height, regardless of the building's original layout. Bano Scaffolding offers custom cradles designed and built to each customer's specifications.
Temporary Cradle in Saudi Arabia
It's not uncommon for workers on a high-rise construction site to encounter areas that are inconveniently out of reach for tasks like plastering and painting. These cradles may be used as a substitute for hanging platforms, with the main distinction being that they only need a single hoist (either electric or manual) to elevate a single person. A temporary cradle is a device to hoist a person from the ground to an elevated work platform for repairs. Working in tight quarters with limited access calls for a temporary cradle. Construction sites can have these cradles set up in no time. These may be quickly disassembled and moved to a new location for your convenience and the needs of the building. L-shaped cradles, C-shaped cradles, double-decker cradles, and single-stirrup cradles are just some of the various temporary cradle designs available.
Accessing inaccessible parts of a building is made easier, safer, and cheaper with suspended access cradles. Steel wire rope is coupled to a suspension system fixed to the roof, and a working platform, a man-riding hoist, and a safety device are hung from the system. However, there are a variety of choices that may be made and deployed depending on the task at hand. Cradles have a wide range of possible applications, including but not limited to office and factory buildings, offshore platforms, arenas and other entertainment centres, homes, and historical landmarks undergoing restoration. Once installed, it may be utilised for various purposes, including cladding, building, painting, and maintenance.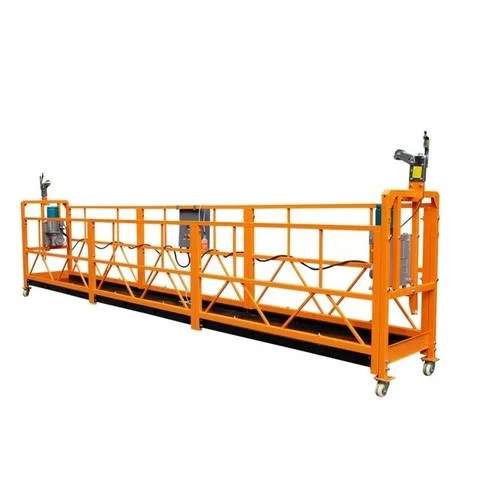 Suspended platforms are another option for working on tall buildings. Using suspended platforms provides a convenient and adaptable means of transporting workers, engineers, and other site staff to and from work areas at elevated heights. Several configurations of this system make it suitable for a wide range of uses. Suspended platforms provide several benefits, including longevity, portability, low weight, security, safety, strength, and speed. On the other hand, Suspended platforms are simple to set up, flexible, inexpensive, and useful in a broad range of contexts. When operating at great heights is required, a suspended platform is the best option.
Advantages of Temporary Cradle
A suspended access cradle is a simple alternative to conventional scaffolding that can be erected quickly. With just a few tools, it's a good choice when speed, safety, flexibility, economy, and security are priorities. One of the benefits of suspended access platforms is that they allow for the following;
Functions And Usage Of New Age Suspended Working Platform
Work platforms that are safely suspended from cables and may be raised and lowered with the help of motorised winches are known as suspended cradles. Exterior and interior building care, cleaning, inspection, and installation are all common uses for suspended cradles. Temporary access cradles, which can be suspended either directly from a gantry or structure or via a specially fabricated roof-rig system, are a fast and easy way to reach heights or depths that would be inaccessible via traditional access methods like scaffolding, ladders, cherry pickers, and scissor lifts.
Cradles also benefit from not obstructing the ground; they usually don't need any tying into the building's outside. Work at height on inhabited buildings is made much more manageable using cradles because of their low noise and vibration levels.
The Advantages of Rope Access vs Cradle Access
Many people consider extreme sports athletes, warriors, and individuals who work at great heights to have the most difficult and exciting occupations in the world. Rope and cradle access services are the two most common methods for working at great heights. It's hardly unexpected that most people would consider washing the windows of a high-rise office building very risky, given the lack of obvious safety precautions used. For the record, at least when discussing rope access services, such is not the case. Rope access and scaffolding technicians provide their customers with a wide range of services. One is superior to the other, but it's not the one you're thinking about.
By use of ropes, a cradle is hung from the ceiling to provide a means of access. There is plenty of room for employees to move on, set up workstations, etc. Cradles may seem safer at first because they provide a fixed platform for workers to latch onto, but in reality, rope-access workers have been injured more often than those working from cradles. This is because cradles restrict workers' range of motion.
Since our founding in 2002, we have been well-respected in the industries of aluminium scaffolding, Temporary Cradle, equipment trade, rentals, and maintenance. We have led the way ever since by prioritising the on-time delivery of critical projects.
Bano Aluminum Scaffolding in Saudi Arabia's Quality & services is well ahead of the competition in the regional market, allowing us to provide results far beyond our clients' expectations.
Why Choose Bano Aluminium Scaffolding for Temporary Cradle?
Our solutions are reliable, secure, and cost-effective, and our customers trust them. Besides, we take great pride in the fact that our customer service and sales support are unmatched, enabling us to give our clients the utmost focus they require. Our team of experts creates custom scaffolding, ladders & Temporary Cradle to meet each customer's demands.
Bano Aluminium Scaffolding is the top supplier of working & hanging platforms in Saudi Arabia.
Head office: Jeddah
3302, Imam Shafi Street 7029, Al Sharouq district, Jeddah 23365, Kingdom of Saudi Arabia.
Branch Office: Riyadh
Near Power plant (SCECO), Usman bin Malik street, Old Industrial area, Riyadh 12333, Saudi Arabia.
Tel No: +966-548463786
Email: [email protected]
We are equipped with the best team of highly skilled technicians and the latest machinery. With accurate specifications, we can produce the best quality product.