Bridge Way Mobile Scaffold Tower
Manufactured from exact tolerance aluminium tubing and locking high-strength castors, these are extremely safe and carry a lifetime guarantee on welding.
For fast adjustment, the legs have been made adjustable for uneven surfaces. Erecting these towers is effortless, thanks to the floating spigot. Dismantling is equally as effortless. Mobile Scaffold Towers are widely used and a safe, effective means of gaining access to higher places you would not usually be able to work on. They come in a range of sizes and are very strong; each tower conforms to the correct standards and is all portable.
Bridge way mobile scaffolding tower is one of the most well-liked types of scaffolding. Bridge way mobile scaffolding is frequently used for work at heights, including construction, renovation, or maintenance since it has a wider platform that enables workers to complete the job comfortably.
Bridge way mobile scaffold towers from Bano Scaffolding are exceptionally safe and come with satisfaction assurance on welding. They are made from perfect tolerance aluminium tubes with locking high-strength castors. The legs have been designed to be adaptable to uneven surfaces, allowing for quick adjustment.
The floating spigot makes it simple to erect these structures and makes taking them down straightforward. These mobile scaffolding towers are a common, safe, and easy way to access higher areas where you would often be unable to operate. They are extremely strong and available in a variety of sizes.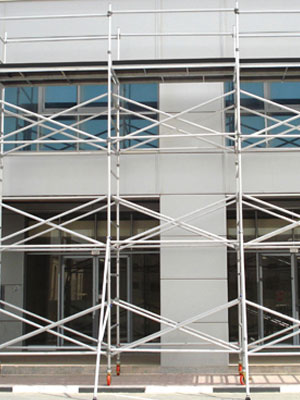 A Bridge way scaffolding tower is appropriate for working in large work areas at a height that is challenging to access with standard scaffold towers. The following characteristics of the Bridge way mobile scaffold tower make it highly favoured and popular in the construction and remodelling industry:
Ideal for getting to places where paths are blocked, such as a conveyor belt system, plumbing, or drainage passage for machinery.

This scaffolding's broad platform makes it possible to work comfortably while doing construction.

The Bridge way scaffolding's no-bolt mechanism makes assembly and disassembly simple.

The scaffolding is simple to disassemble after use, lowering the storage and transit cost.

The Bridge way scaffold tower is ideal for a labour-intensive task like ceiling construction where the scaffolding cannot be anchored to a structure since it has a vast, unrestricted platform surface.
Some of the scaffolding along the Bridge way is made with exact tolerances from aluminium tubing. It has a locking system for high-strength castors, which significantly increases worker safety and comfort.
Mobile Scaffold Tower in Saudi Arabia
Mobile scaffolding often referred to as modular scaffolds, offers simple access to elevated areas and is safer than conventional fixed scaffolds because it can be moved around a worksite fast. With the help of mobile scaffolds in Saudi, constructing, disassembling, and moving the structure from one location to another is straightforward for one person.
They typically come with a variety of accessories, including ladders, platforms, guard rails, and work surfaces, and are composed of aluminium tubing that fits together in pieces. Mobile scaffold towers from the best manufacturer in Saudi Arabia are impermanent buildings used to support the structures of long-term construction works.
Why Choose Bano Scaffolding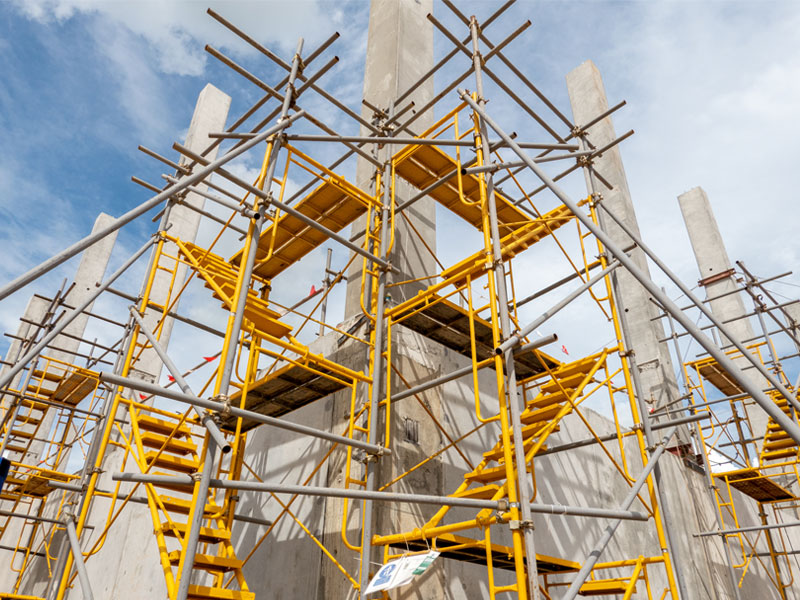 Businesses searching for these scaffolds should buy them from reputable, well-known manufacturers like Bano Scaffolding. They produce them precisely in accordance with industry standards and under the supervision of scaffolding professionals to guarantee the scaffoldings' high quality and longevity.
Additionally, employing the most recent technology, Bano Scaffolding, a reputable and trustworthy scaffolding company, manufactures bridge way scaffolds from outstanding grade metal alloys. In order to guarantee that the scaffolds are of the highest quality, they are also subjected to several quality tests.
Bano Scaffolding's bridge way scaffolds are widely utilized to get access to difficult-to-reach areas that an average person or worker would not be able to reach otherwise. A Bridge way scaffolding tower is necessary for the most specialized operations in the construction and maintenance business.
Before moving the scaffold tower, you should verify the route you intend to follow to ensure the ground is level, firm, and free of holes and obstructions. In addition to examining the ground, you also need to make sure there are no overhead impediments, such as powerlines. 
You must use strong wire or tie-in mechanisms to anchor scaffolding to a wall or structure of a house. The first vertical tie should measure four times the narrowest base measurement at its highest point, and the additional ties shouldn't rise more than 26 feet vertically.
Syed Tayeb
Sales Manager
Mobile: 0548463786
Building No:15, Izdehar street, Near McDonald's, Mushrefah district, Jeddah, Saudi Arabia.
Tel No: 012-6735913,
Fax No: 012-2872151,
Email: [email protected]