Single Width Mobile Scaffold Tower
We supply a wide range of Caster wheels which offer relatively high capacity at a lower cost than many materials.
First Quality polypropylene no mark castors with foot-operated breaks. The diameters available are 125,150, and 200mm. You can move easily even on slightly rough terrain.
When floor surface protection is critical, and the load is astronomical, these wheels may be the answer. Thick, floor-protecting treads are available in both rubber and polyurethane, and all ride on massive cast iron centers equipped with tapered roller bearings for optimum performance. All kinds of metal wheels are easy to roll, minimizing human or mechanized energy required to move heavy loads.
Where there is a limitation on the available area, a tower scaffold with a single width is the best option. Workload per tower working platform on the little scaffold tower is 225 Kg. Scaffolding's single-width tower is made of a durable alloy that has been heated to a high temperature. Its wheeled base has a double-brake mechanism. The Aluminum Scaffolding Tower allows convenient access to all floors while working on an elevated platform.
Regarding safety, a ceiling height of 12 meters is the highest that may be entitled. Aluminum scaffolding that can be moved from place to place is called "mobile scaffolding." This scaffolding tower provides the utmost protection for multi-story construction or maintenance projects. The specifications of the aluminum frames of the ladders are tailored to the needs of each customer. These single-width aluminum towers are superior in stability and safety and need no maintenance.
The ideal mobile scaffold tower for conditions where narrowness prevails. The adjustable outriggers allow for multiple adoptions. When fully extracted, the outriggers provide secure support on any surface for safe working conditions at extended heights. When retracted, the tower can easily be moved through alleys, doorways etc. or be used for wall-side applications.
Easy to handle due to lightweight, push-in connection on frame sections and snap fasteners on braces, exact leveling by ball-screws and large swivel castors of 200mm dia. This main frame is designed for those people who need a ladder in the main frame.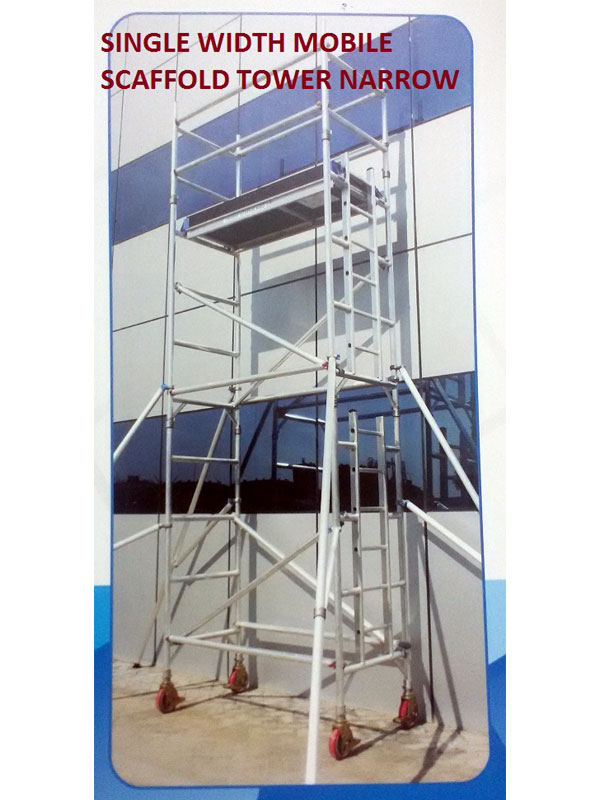 | | |
| --- | --- |
| Main Frame Width: | 75cm, 85cm |
| Main Frame Height: | 2m |
| Main Frame Length: | 1.8m |
Single Width Mobile Scaffold Tower Unit Details:
Minimal bulk, quick set-up time
Very user-friendly and secure for use in elevated environments.
Ensure the greatest possible height flexibility.
Work demands flexibility. Thus, being able to move about is essential.
Castor wheels with a locking mechanism for portability and security
Dimensional Main Support: 2m
Overall Length: 1.8m
Standard Platform + Trapdoor Platform = Platforms Maximum 225 kg per platform, 600 kg total (Tower included) load capacity.
Mobile Scaffold Tower in Saudi Arabia
Bano Scaffolding Saudi Arabia offers turnkey scaffolding services that help customers finish their projects on schedule and within budget. Our mission at Bano Scaffolding Saudi Arabia is to become a preeminent provider of scaffolding, ladders, and formwork systems. Steel and aluminum scaffoldings, ladders, construction supplies, safety items, and formwork systems are just a few product lines we carry. Scaffoldings are temporary frameworks built to enclose and protect a building during its development. We believe any building project can be completed more quickly and securely with our scaffolding equipment. Delivering exceptional service to every one of our clients is what we do best. Bano Scaffolding's products are designed and manufactured by a seasoned staff using cutting-edge machinery.
 People, excellence, cooperation, and goodwill are the four pillars around which our company is built. In our opinion, the success of our business depends heavily on the satisfaction of our customers and staff. Furthermore, we place a premium on your physical and mental well-being. The qualities of friendship, generosity, respect, variety, and humanity characterize our group. Relationship building with customers and vendors is a priority, as we want to help them succeed as a company so that we may grow. We do constantly work, which helps us refine our methods.
Why Choose Bano Scaffolding
Bano Scaffolding strives to ensure every one of its customers is happy with the service they get. We think growth is best achieved in tandem with that of our customers. This is how we establish a loyal following of customers who return repeatedly. They can count on us to provide them with scaffolding that meets or exceeds all safety standards.
Our scaffolding solutions are economical, flexible, secure, and simple to up and disassemble. We tailor them to meet their specific needs. Plus, they may quickly move about from one location to another thanks to our cup locks and wheels.
 The quality of our goods and services is guaranteed. They are safeguarded with appropriate safety measures and are also reasonably priced. Our staff has extensive expertise in the field and is dedicated to giving excellent service. Our premium goods are built to last.
 For this reason, they stand out in any setting. So the contractor may reuse them. Our scaffolding and ladders are built to last using high-quality materials, including aluminum and steel, wood, locks, and more. Before production, our staff ensures the quality of the materials we use.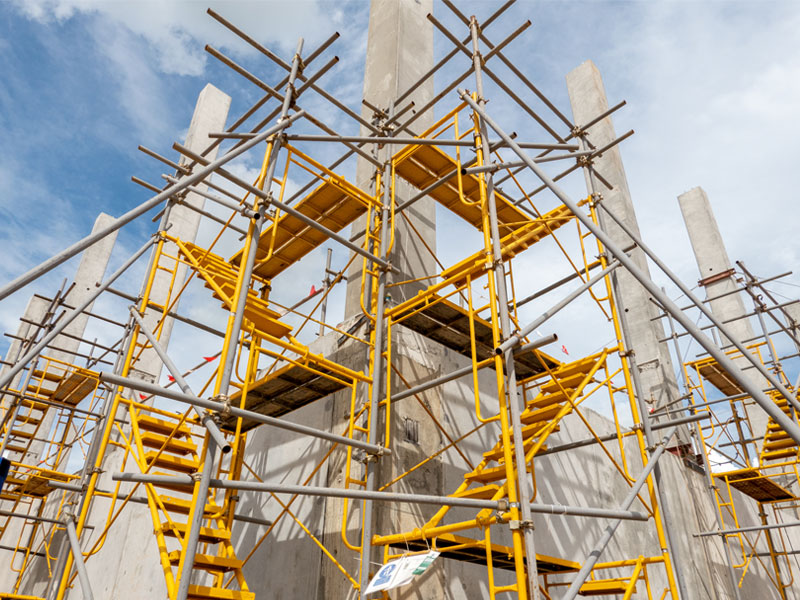 When compared to competing scaffolding businesses, we stand apart. Our customers like working with us at Bano Scaffolding because of our dedication to their best interests. Our hard effort as a team will lead to the successful expansion of your company. Our staff consistently demonstrates a high passion and enthusiasm for their job. We are committed to becoming the industry standard in scaffolding services worldwide as a company.
Our 0.715-meter-wide scaffold towers are more compact than those of competing brands. Because of this, tower platforms as high as 8 meters may be used even in confined places.
The frame is 600mm wide, making it suitable for installation on standard home stairs. This is at home on an escalator or in a more conventional skyscraper setting. However, the 4.2-meter working height is only valid for a maximum platform height of 2.2 meters.
Towers of scaffolding may be erected in various configurations, with a maximum height of 12 meters. A scaffold tower's stability and size are proportional to the square of its base.