Double Width Mobile Scaffold Tower
Our aluminum tower offers an ideal solution for those hard-reach places that require safe and convenient access.
Simply and easy to erect, thanks to the lightness of aluminum, our frames and accessories are durable, low-maintenance and mobile, giving you the versatility to relocate or adjust. This main frame is designed for those people who need a ladder in the main frame.
The bracing on a double-width mobile scaffold tower enables erecting the tower quickly and easily without compromising the tower's structural integrity. The rail height may be adjusted for any frame by placing the platform on the third rung down from the tower's highest point. A maximum of 250 kilograms may be placed on each platform, with 700 kilograms for all platforms combined, plus the tower's weight.
The brakes on the wheels of a mobile access tower are operated using a pair of pedals, making it easy to stop and start rolling again.
The seven-step ladder is seamlessly incorporated into the frame, so there is no breaking the chain of continuity, whether climbing or descending. There is no latching mechanism or crimped joints on the fixture that joins the tower's frame components; instead, it uses vertical tubes of two equal lengths, similar to various ancient scaffolds.
The spigot is a portion of the same vertical tube created by cold forming, and its thickness of 5.5 metric linear units is used to transfer most of the tower's structural load. As a result, our aluminum tower is the perfect option for inconvenient-to-reach areas needing secure and easy access.
Because of the lightweight nature of aluminum, our frames & accessories are not only simple to set up but also long lasting, low-maintenance, and portable, allowing you plenty of room for maneuver. We have created this structure to accommodate individuals who need a staircase in the main frame.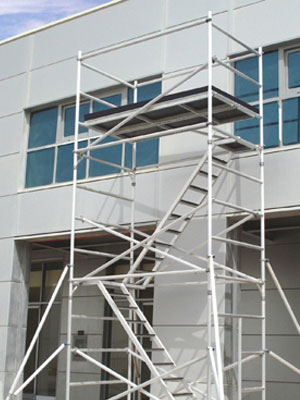 | | |
| --- | --- |
| Main Frame Width: | 1.45m |
| Main Frame Height: | 2m |
| Main Frame Length: | 2.5m |
Double Width Mobile Scaffold Tower Unit Details:
Maximum Load rating 250kg (distributed) per platform
Evenly distributed 500kg
Welded Frame design
Solid aluminum short spigots for ease of assembly
Ladder building main frames with strong welding
High quality adjustable 8 inches castors with brake
Diagonal Brace ensures the platform is sturdy and stable
Mobile Scaffold Tower in Saudi Arabia
The specifications of the Building and Construction, Industrial, and Industrial Manufacturing sectors are considered when producing double-width mobile scaffold towers. This scaffolding is lightweight for easy travel without sacrificing durability or safety. You may have it with a variety of widths and lengths for its base.
The extrusion tubes on the rungs on the double-width aluminum scaffolding make it easy to ascend. The user's height may be adjusted by adding more of these platforms. The scaffolding is on wheels that can be locked and sturdy enough to stop the thing from moving.
Why Choose Bano Scaffolding
We have been in business since 2002, and our expertise and dependability in aluminum scaffolding, equipment rental, equipment trade, and services are unmatched. Since then, we have consistently been industry leaders by completing complex projects under strict deadlines. Because our Quality & services are superior to the others in local marketplaces, Bano Aluminum Scaffolding has been able to accomplish demanding and remarkable performance well above our customers' expectations.
Bano Aluminum Scaffolding produces aluminum scaffolding, and tower access scaffolds are the company's bread and butter. Our scaffolding is designed to be easy to set up and take down and portable enough to be moved about and modified to fit a wide variety of situations. Budget-friendly aluminum scaffolding systems are growing popular among painters, builders, maintenance workers, farmers, gardeners, and home handypersons. They serve as a reliable, short-term work platform that abides by all the norms of the updated safety standards in the workplace.
Lightweight aluminum mobile scaffolds, Aluminum Narrow Scaffolds, and aluminum access towers are just a few options we provide. Your safety and the success of your work depend on your access to the appropriate equipment. You can trust that a Bano Aluminum Scaffolding System will provide you with a secure and sturdy platform to work from. Many businesses may use them since they improve workplace security while boosting output.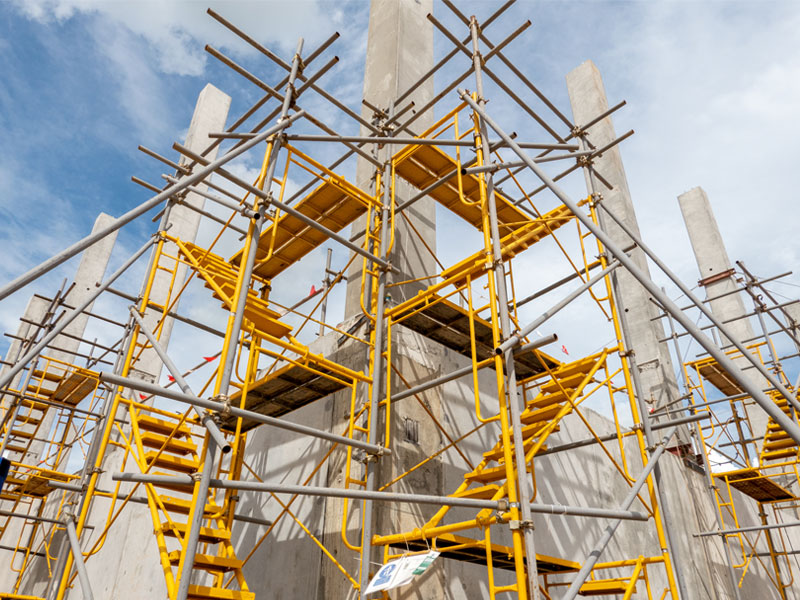 Bano Aluminum Scaffolding is widely recognized as a global leader in designing and manufacturing high-quality, cutting-edge scaffolding for use in various sectors. Our scaffolding has the durability and dependability you expect from a high-quality system, with wholly welded frames, steel locking pins, and heavy-gauge aluminum components.
Main Frame Width: 1.45m
Main Frame Height: 2m
Main Frame Length: 2.5m