Stair Way Mobile Scaffold Tower
This scaffold is the most useful ascending aid for activities involving frequent ascent/ descent and transport of loads. Slanting steps reaching from platform to platform with 100mm deep steps can safely and comfortably be traversed forwards and backward.
Stairway rails add to the all-around safety. No tools are required. The spacing of platforms every two meters eases the assembling or dismantling of the tower. 200mm dia swivel castors with locking device and height adjusters to cope with uneven surfaces for ease of mobility and handling. All individual parts are separately available as spares or extension parts.
45-degree Stairway Towers:
Integral stairway and handrail system, ideal for frequent ascents and descents inside the tower, Convenience for tools and materials transport.
As the name implies, stair scaffolds are accessible towers made of alloy and designed to be used on staircases and in confined spaces. They provide a risk-free approach to climbing up and out of tight spaces. These self-constructed stairway scaffold towers exceed all applicable legal requirements for quality and safety. Tower scaffolding equipped with a stairway comes in a wide range of sizes, driving up its already high demand on building sites.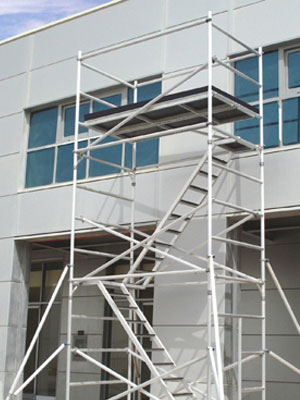 You can trust that we will never sacrifice quality or safety to increase sales or rentals. The quality and standards of our goods are consistently monitored and evaluated against all applicable benchmarks. These mobile scaffold towers with stairways are constructed from high-quality materials. They are safe and pleasant, making it simple and efficient to ascend and descend with large, bulky goods.
Features of Stair way Mobile Scaffold Tower:
The firm has perfected the art of making mobile scaffold towers with stairways, and its products are among the best in the industry. These scaffolds are available in various dimensions and may be adjusted to suit the needs of individual customers.
Mobile Scaffold Tower in Saudi Arabia
One of the leading suppliers of aluminum scaffolding in Saudi Arabia, we are committed to producing and providing scaffolding of the finest quality, making us a go-to option for a wide variety of projects across many different sectors. To keep our word and provide solutions of exceptional value, we go to great lengths to find the best possible materials. Such materials will not only endure the test of time but also perform admirably under pressure. Not only does our equipment assist employees in reaching heights, but it also ensures simplicity of use.
Contactors in Saudi Arabia constantly need sturdy and resilient scaffolding construction. This is because they must guarantee both the building's structural integrity and the security of its employees. The solution is aluminum scaffolding, and Bano Scaffolding is here to provide it.
Bano Scaffolding Industries, one of the world's premier producers of aluminum scaffolding, is proud to serve a wide variety of Dubai-based companies and organizations by providing innovative and cutting-edge scaffolding systems. Since day one, we've made it our mission to provide the tools that make it easier and safer for contractors to keep their people above ground while they do their jobs.
Why Choose Bano Scaffolding
Contacting Bano Scaffolding guarantees you will get items that have been rigorously tested for quality. To ensure the well-being of our customers, we take great pains to examine every one of our products. You may be sure that you will obtain superior formwork solutions for every one of your projects.
We attribute our success to our staff, which is made up of highly certified and trained scaffolding professionals who are talented in designing top-of-the-line molds for all commercial projects. Renowned for their experience, their drive to provide only the finest enables us to guarantee top-quality items customized per your particular needs.
Bano Scaffolding produces and sells a variety of scaffolding options, including
Foldable towers.
Construction towers are made of aluminum scaffolding.
Single-width light towers.
Podium aluminum steps.
Modular stairway scaffolding towers and much more
From our many years of expertise, we know that each customer has a unique set of expectations and demands for a project. The problem cannot be solved by purchasing a premade product.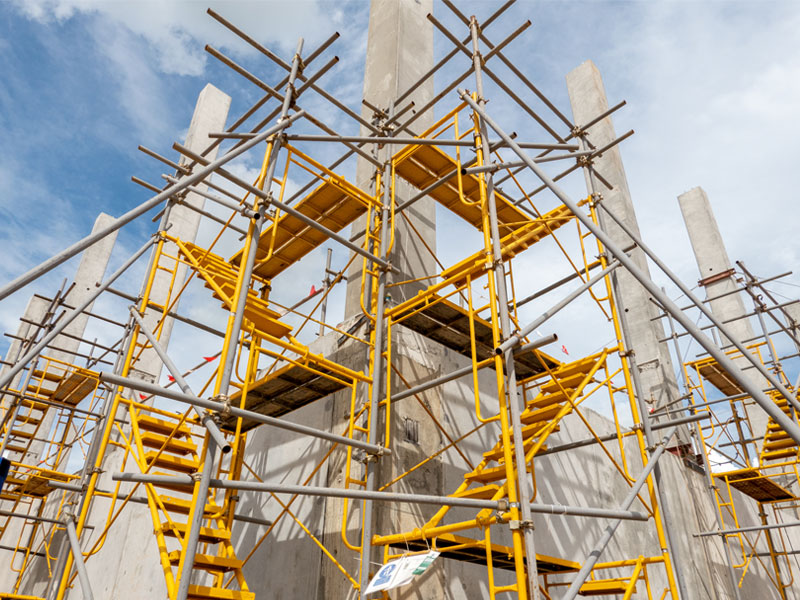 This is why we have a complete line of high-quality scaffolding options. Our vast inventory gives customers the freedom to choose the tools and supplies that are the most useful to them. This gives our customers nothing to fear when it comes to making concessions on the quality of their specific projects.